The Reich Chancellery is the center of power in creativia. The Reich Chancellery is like a library someone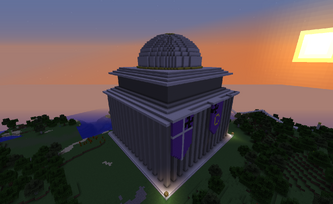 brought a bunch of dogs to, or a park you avoid after dark. It is a temple for the mind, a refuge for the truth.
The Great Uniter, Lingminging united all the waring clans of creativia. He then made a brand-new social structure and this is how it goes:
- Fuhrer and Emperor(Lingminging and Enderfart)
-Chancellor(Daleksec1000)
-Vice Chancellor(Craftiegreen)
-MP(Duskhound, knightfang, The_Man898, Nicole-Turner)
-Upper-class
-Middle-class and military.
-Lower-class
-Scummers
-Traitors and spies
-Dogs
-Exatians
Ad blocker interference detected!
Wikia is a free-to-use site that makes money from advertising. We have a modified experience for viewers using ad blockers

Wikia is not accessible if you've made further modifications. Remove the custom ad blocker rule(s) and the page will load as expected.