The Creativian Navy, in short CN, or in German; Das schlecht Boot, is the branch of the Creativian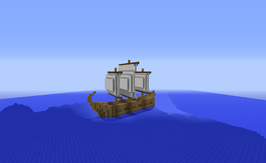 Forces responsible for conducting Naval Operations, naming one of its aircraft carriers after the current Shogun in office, and for the accommodation and well-being of Craftiegreens who are cruelly rejected by other armed services. The Creativian Navy currently numbers nearly 300,000 Players and more Players on active duty or reserve. The Navy has more planes than the Air Force, they just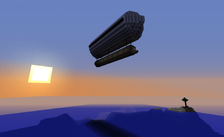 have trouble flying them.
DuskHound28 added Shadow Cannons which uses no fuel and fires a TNT going at 10 blocks per second. The cannon consists of 5 blocks: *The Block of Coal (Looks good) *The Command Block (a.k.a. Shadow Machine) *2 Nether Brick Fences (they keep the cannon on the Ship)  *The Button (Activates the Shadow Machine) These will be added to the zeppelin but in a Drop Bomb way. The zeppelin does have smaller non-shadow cannons, which are effective over long range.
Ad blocker interference detected!
Wikia is a free-to-use site that makes money from advertising. We have a modified experience for viewers using ad blockers

Wikia is not accessible if you've made further modifications. Remove the custom ad blocker rule(s) and the page will load as expected.